Getting a little frustrated with the old rat race?

Feel like there must be
more to life than this? Ever wonder what's missing?

Tired of the incomplete solutions offered by pills, self-help books and salesmen posing as gurus?

CLICK HERE TO GET TO THE ROOT OF THE PROBLEM!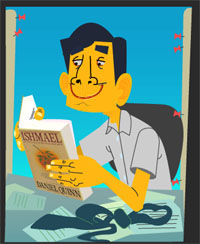 Ishmael by Daniel Quinn gets to the root of the problem. Find out why it's making a major impact on people from all walks of life.